Catalogue of Chocolate Ganesha
All designs are available in white chocolate, dark chocolate, kheer and haldi milk. Please contact for pricing at 9821140286
Ganesha made with mould
8 Inches - RS. 2,500
8 Inches - RS. 3,000
9 Inches - RS. 6,000
11 Inches - RS. 10,000
12 Inches - RS. 10,000
15 Inches - RS. 15,000
18 Inches - RS. 17,500
2 Feet - RS. 22,500
2 Feet - RS. 30,000
2 Feet - RS. 35,000
2 Feet - RS. 40,000
Kheer Ganesha
Haldi Ganesha
Handmade Ganesha
These are customised handmade idols. Price starts from RS. 50,000. Please contact me at 9821140286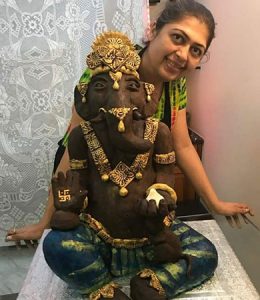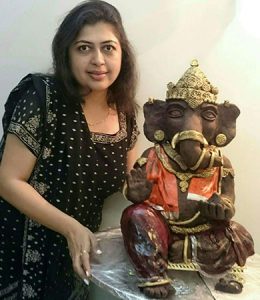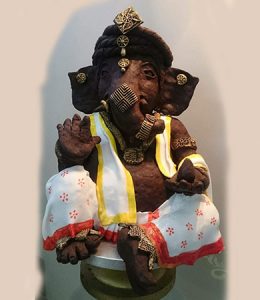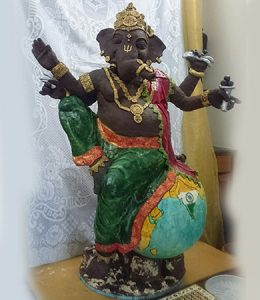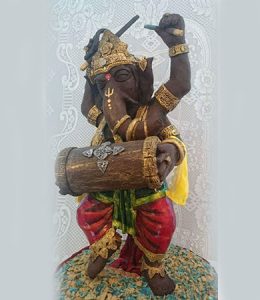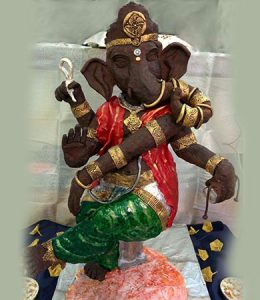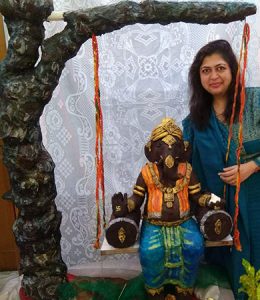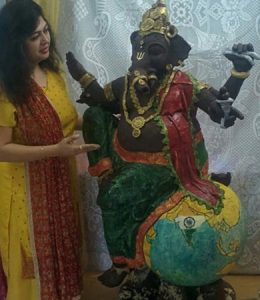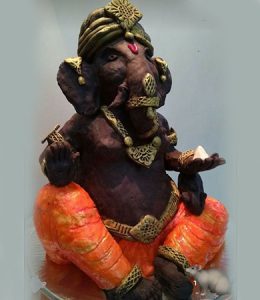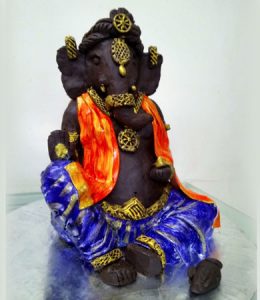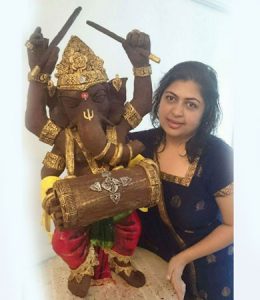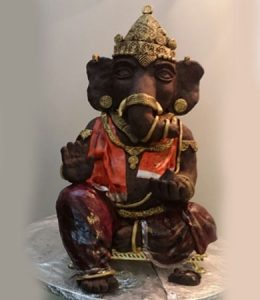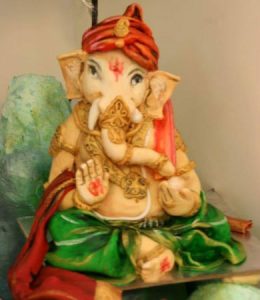 FAQs for Chocolate Ganesha
Do I need to keep it in an AC? Will it melt at room temperature? No, you don't need to keep it in an AC room. It will stay well for all 11 days at room temperature below 35°C. Do not keep it near a window where direct sunlight falls on it. Keeping it away from the window saves it from dust as well.

How to protect it from the ants and other insects? Keep some whole spices like cloves, cinnamon sticks, paper corns around the idol and ants and other insects will not come. You can also mix Haldi powder with water and make a nice Rangoli/Alpana around the idol, that is also very effective to keep the ants and other insects away from the idol.

How do I immerse the idol? The immersion will happen inside your house itself. You can immerse the idol in milk or water. First, finish the ritual with a small amount. After the ritual gets over, you can pour hot milk or water to speed up the melting process. You can stir it or churn it so that the chocolate mixes faster with milk. If you don't want to distribute the chocolate milk on the same day then use lesser amount of milk to dissolve the idol. Make a slurry and refrigerate. Take out in small portions, add more milk and make milkshake as per your requirement. It is advisable to use Tetra Pak milk for immersion as it doesn't get spoilt easily. Clean the idol with a flat paintbrush to remove the dust, if any.

How important is hygiene? Hygiene is very important for The Chocolate Ganesha. Always wash your hands before touching the idol. Keep the surrounding area clean.

How can I do the Puja? Will I be able to do Tilak? Use can use red powder food colour for Tilak. Any real flowers and garlands are fine for God. You can put janou on the idol. Keep durva near the idol. Keep diya at a distance of at least 1.5 feet. If you wish you can keep a small idol besides the God for visitors to do Tilak and for other rituals.
Terms and conditions for buying Chocolate Ganesha
Congratulations on deciding to buy Chocolate Ganesha. I really appreciate your concern for the environment and towards humanity in general. This is not only limited to the festival but this involves a social cause and with that comes social responsibility.
I am giving you my guarantee that the idol is made with utmost care in hygienic conditions using the finest of ingredients. I want you to take this oath before taking home the Ganesha.
I have understood all aspects regarding the Chocolate Ganesha, transportation, hygiene, temperature control, immersion and Prasad distribution.

I have understood that hygiene is the prime criteria for Chocolate Ganesha as this is going to be consumed after Visarjan.

I acknowledge that it is solely my responsibility of maintaining hygienic conditions in and around the idol and milk Prasad all along.

I absolve Rintu Rathod of all consequences of any nature regarding the Chocolate Ganesha idol on signing off this document.