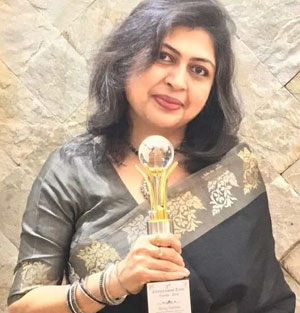 Hi, My name is Rintu Rathod. I'm trained as a Commercial Designer. I've studied at the prestigious Faculty of fine arts, M.S. University, Baroda. I did my graduation in commercial designing and masters in Journalism and Mass communications and became a gold medalist in my post-graduation.
From a person who didn't know how to make tea when she got married to the internationally known chocolate artist. It's been an amazing journey so far filled with passion and inventions.
I have won many awards for my creations. My invention of 'Chocolate Ganesha – immersion in milk – distribution of the resultant chocolate milk among the underprivileged kids' have given me worldwide recognition. It's been covered in the media across the globe.
I am also an avid traveller, an adventure sports enthusiast, a Bharatnatyam dancer, a painter, a wife and a mother. I am also the founder of an organisation called the Food Army, working for the betterment of society. But most of all I am a Sufi at heart. I have always followed my heart and instincts, personally or professionally and that's why I am who I am today.
I have combined my two passions – Designing and Baking, Which I think is a lethal combination for creating edible masterpieces. I can turn your dream fantasies into yummy cakes and chocolate sculptures, which you can keep in art galleries (if you have tremendous self-control for not eating it).